We are at a Turning Point. This is a defining moment in our history as a family of churches. The choices we make now will have ripple effects for generations to come.
We have an opportunity to reshape our future now.
Oasis 2018 will focus on what is required of us as a family of churches if we're going to make a difference joining God in our neighbourhoods.
Download the video and share it with your church:
http://bit.ly/oasis18-promo.
Problem viewing the video? Click here:
https://vimeo.com/atlanticbaptist/oasis-2018
.
---
Details:
August 23-25, 2018
Speakers – Dr. Peter Reid (CBAC Executive Minister) & Various CBAC Staff
Worship Band – Fraser Campbell & Band
Oasis Forum – Dr. Stuart Blythe
Devotional – Rev. Dr. Bruce Fawcett
Seminars
Oasis Kids & Youth
Crandall/ADC Alumni Gatherings
A great time of fellowship!
Download slide to share with your church: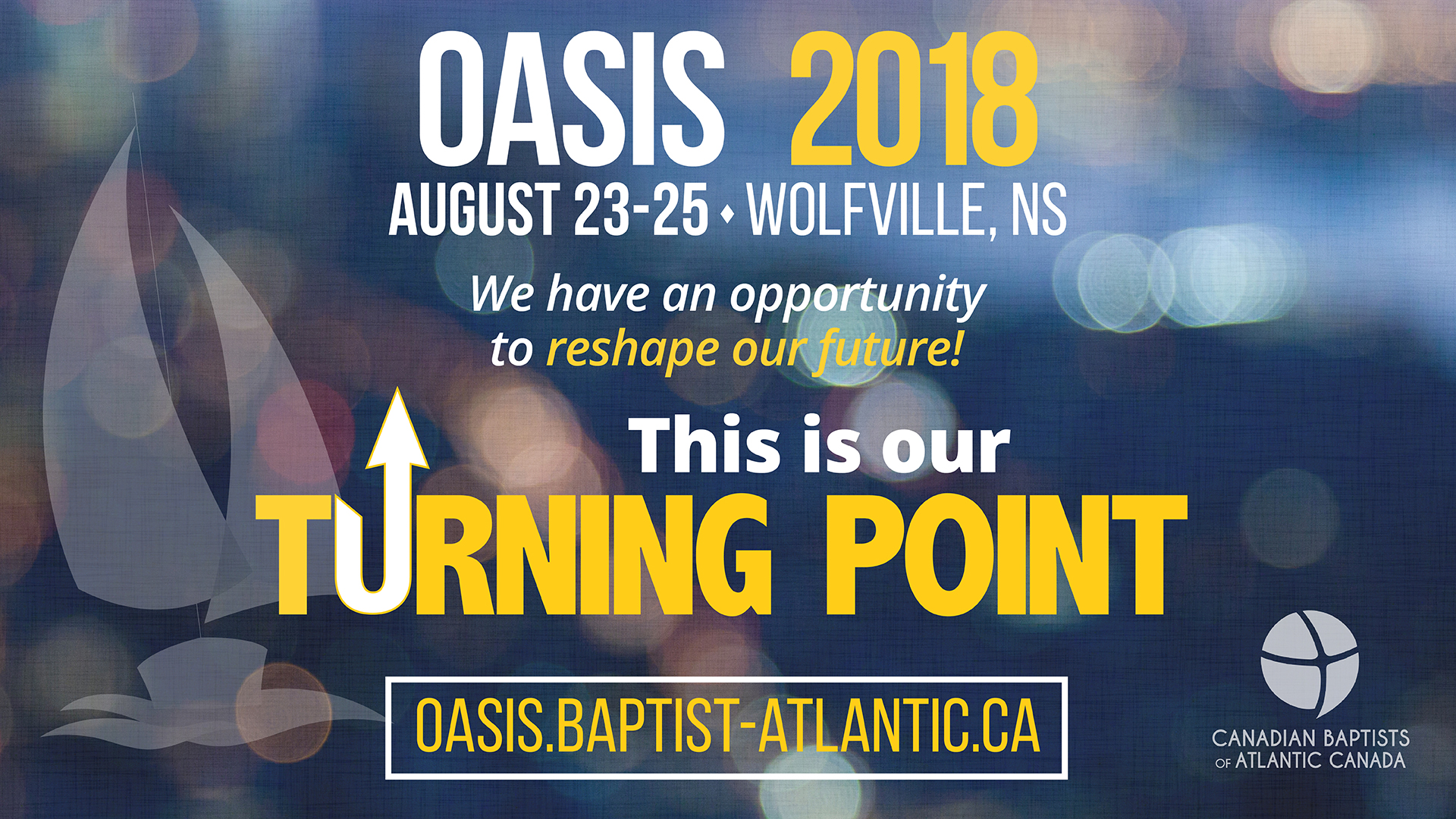 ---
Oasis is the annual gathering of the Canadian Baptists of Atlantic Canada, a family of churches spread all over Atlantic Canada. Each August, member churches send pastors and delegates to Oasis to engage in making decisions around budgets and visioning for the future. Oasis is also a time to celebrate what God is doing in our churches and how your giving to the CBAC is making a difference with pastors and churches all across our region. You'll hear from organizations owned by our churches – Crandall University, Acadia Divinity College, Atlantic Baptist Housing, Atlantic Baptist Foundation, Atlantic Baptist Mission Board – and how your giving impacts them. You'll hear from speakers, worship bands and other gifted artists that we hope will encourage and inspire you and your church to new heights. Remember – Oasis is not just for pastors; it's for anyone!
---
More here: http://oasis.baptist-atlantic.ca/about-oasis-2018/.